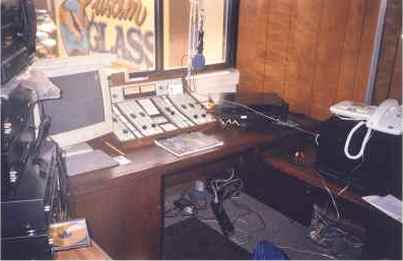 KXTO ON AIR STUDIO

It looks ok but it had a few problems, First the equipment you see just to the left is my equipment, The CD phone and Answering machine on the right were also mine. The Urei Mod1 console a piece of junk by design lacked a few necessities such as monitoring, cue note the missing slots in the middle of the console oh ya one other thing missing Speakers! the station had no speakers of any kind not even a radio. The worst was yet to come, the station had nothing to monitor the transmitter with. The only control was though my telephone which could connect to the SINE remote control unit. This station violated ever rule the FCC had. You name it they broke the rule. From no Station I.D. to no Public Inspection File yet this station passes FCC inspections
What gets me is the gull the FCC has looking the other way
with a poor excuse for a radio station like KXTO, Yet they won't think twice about raiding a micro broadcaster serving in the public interest truly committed to serving the local community.
The sad part KXTO is just an example not the exception.
Like many Operation Managers before me I too was never
paid for this nightmare. The multi millionaire owner had the nerve to suggest we go down to the YMCA or soup kitchen for food and shelter, while cheating us out of our paychecks
We were not allowed to sleep at the station that was strictly enforced though the Landloard even on ice cold winter nights
in Reno NV.